Welcome to Sheer Goddess® Bath and Body Care Products! You are about to experience something truly different in skin care and cosmetics. Our products are based on goddess principles of caring for one's self in a manner that reflects the goddess within. Our philosophy of "every woman deserves to be worshipped" means that you, all that you are, and all that you will become deserves recognition, respect, and reward. Our product line is meant to illustrate the concept that you are meant to treat yourself well, look and feel your healthiest and most glamourous! Best of all, because we are so confident in our products, trying them is at absolutely no risk to you because every purchase is backed with our 100% money back guarantee. So you have nothing to lose in trying these wonderful products.

We have meticulously chosen the formulae for our line to include principles that are important to us: Wherever possible, we have used ingredients that are organic. ALL ingredients, are completely vegan; no animal products or testing has been involved with anything we will ever offer you. It is our belief that in doing this, we are bringing you a product that is not only good for the body, but good for the mind and spirit as well.

To offer you an extra value, most of our products are so rich and concentrated you will probably find yourself using a much smaller amount per application than you usually do! Start out using about one-half of what you use of your regular product and adjust up or down to personal preference. Additionally every product has the option of being delivered to you in decorative packaging or not.

At this time, our featured collection is dedicated to the goddess of love and beauty, Erzulie Phraeda. Every product in her collection has been designed and consecrated in the Goddess principles of love, beauty, charm, and feminine appeal. Other collections will follow, each dedicated to a special goddess exemplifying the feminine heart and soul. Thank you for visiting us. We hope you will consider us for your everyday needs as well as for an opportunity for unique gift-giving. Have fun exploring our website. Visit us often as we will be updating our information frequently. Tip: If you get lost on the website, look for the ruby slippers and click on them!

Did you know we also offer wholesale opportunities to carry Sheer Goddess in your spa, salon, boutique, or store?

Additionally, we do party favors for showers, weddings, or occasions of any kind!

Contact Wendy at wendy@sheergoddess.com to discuss your needs.






Please click on photos for larger view.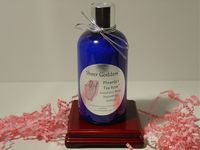 Phraeda's Tea Rose™ Luxurious Body Smoothing Lotion™
This light, yet rich, lotion smoothes and soothes you all over with the fragrance of an English tea rose. A synergy of silk proteins, aloe,and rose distillate combine for skin softening luxury all over. Perfect hand lotion, body lotion, etc. Softening and smoothing lasts for 24 hours for most users. (Generous 8 oz. bottle $15.95)


Phraeda's Hibiscus and White Ginger™ Rich Night Creme
Rosehip oil and hibiscus flower extract are combined with the fragrance of white ginger in an ultra rich night crème that is beneficial for all skin types. Easily Smoothes fine lines and wrinkles; firms and tones skin, improves color and texture with continued use. Extra emollients nourish mature skin. Start out with just a small amount as a little bit goes a long way. This is a very generous 4 oz. jar - most creams of this quality are sold in 1-2 oz jars only. You will receive a large 4 oz. jar which is approximately a 2-3 month supply with normal nighttime use. (Large 4 oz jar $21.95)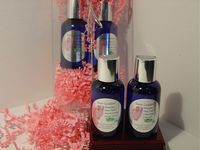 Phraeda's Dew Fresh™ Cleansing Facial Gel and Dew Fresh™ Moisturizing Facial Toner Duo Pack
Start the day with this refreshing duo! This light citrus foaming gel brings rich conditioning and cleansing ingredients to the skin with aloe juice, tea tree oil, pro-vitamin B, and hydrolyzed wheat. Perfect pick me up in a gentle, effective cleanser. Follow the cleanser with the very mild toner that is perfect for any skin type. The aloe and rose distillate make this a gentle toner that moisturizes yet tones and smooths. You will receive two 2 oz. bottles, 1 cleanser and 1 toner. (Please note: Toner and cleanser are also available separately in large 4 oz. bottles. Please see below.) (Two 2 oz. bottles - $19.95)
Order Dew Fresh™ Toner Only - $16.95 - 4 oz. bottle.

Order Dew Fresh™ Facial Cleanser Only - $16.95 - 4 oz. bottle.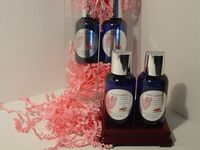 Phraeda's Marmalade Dreams™ Facial Cleanser with Wild Oats and Honey and Calming Facial Toner Duo Pack
This calming and soothing duo is recommended for nighttime treatment and/or for more mature skin. Extremely mild and gentle, the cleanser is perfect for all skin types. Oats and honey leave your skin feeling soft and smooth. Delicious orange marmalade scent soothes and relaxes. The toner helps you wind down from the cares of the day, calming your face and mind with aloe, oat, and orange blossoms. You will receive two 2 oz. bottles, 1 cleanser and 1 toner. (Please note: Toner and cleanser are available separately below in large 4 oz. bottles.)(Two 2 oz. bottles - $19.95)
Order Marmalade Dreams™ Toner Only - $16.95 4 oz. bottle
Order Marmalade Dreams™ Facial Cleanser Only - $16.95 4 oz. bottle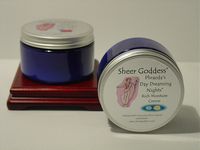 Phraeda's Day Dreaming Nights™ Rich Moisture Crème
This versatile crème is incredibly rich and lovely, yet light enough to use under makeup or alone for a smooth finish. Wonderful light scent, uplifting properties. Rich oils and lanolin make this a unique crème that can be used as a day crème, night crème, under eye crème, or body crème. For day or night use.
(Generous 4 oz. jar - $21.95)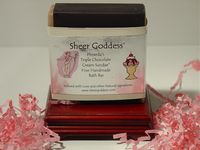 Phraeda's Triple Chocolate Sundae Bath Bar
Lather yourself in the scent of chocolate and ice cream! The best soap you'll never eat! Decadent handmade bath and body bar made with pure olive oil, organic coconut oil, and other creamy ingredients. A sensory treat that leaves skin smooth, soft, and delicately scented. Makes a lovely gift, get one for you and one for a friend. (Large 7 oz. bath bar - $6.95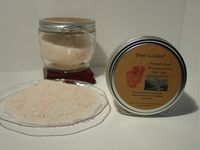 Phraeda's Himalayan Pink Bath Salts
Delciously scented bath salts are actually hand-mined minerals from the Himalayan Mountains. These salts are naturally pink in color and help soak away aches and pains, soften skin, exfolliate, and promote a general sense of well being. (Large 16 oz. jar - $16.95.)
Are you interested in carrying Sheer Goddess products in your boutique, salon, or shop? If so, please contact Wendy, our Regional Expansion Manager, at wendy@sheergoddess.com for more information.


LIKE SHEER GODDESS ON FACEBOOK!
Copyright, ©, 2007-present, Sheer Goddess®, Sam and Matt Corfield
P.O. Box 2370
Los Lunas, NM, USA
505-962-2525